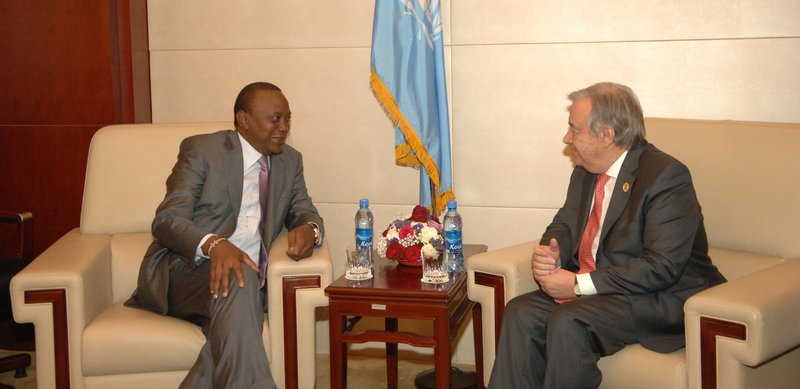 The United Nations and its Department of Political Affairs assisted in mediation to resolve Kenya's 2008 electoral crisis, and have since continued to work for reconciliation in the East African country.
Historic vote on new constitution
Major progress was achieved with the elaboration and promulgation of a new Constitution, which was supported overwhelmingly by the Kenyan people in a referendum on 4 August 2010. The Department of Political Affairs had deployed an electoral expert, specializing in operations and voter registration, to assist the electoral commission with the implementation of a credible referendum.
The historic vote marked the end of Kenya's long and turbulent search for a new Constitution, and brought renewed hope and momentum to efforts to prevent future crisis. However, much remains to be done – both in terms of operationalising the new Constitution and undertaking other essential reforms in the judiciary, police, in land affairs and other areas.
Cooperation with African Union during electoral crisis
When elections triggered widespread violence in Kenya in early 2008, the Department of Political Affairs assisted the AU in its efforts to broker a political solution. Throughout the lengthy political negotiations, the Department of Political Affairs provided staff support and technical advice to the mediators from the AU's Panel of Eminent African Personalities: former United Nations Secretary-General Kofi Annan, former President of Tanzania Benjamin Mkapa and former First Lady of Mozambique Graça Michel.
The Panel's mediation efforts culminated on 28 February 2008 in a power-sharing agreement that ended the political crisis and led to the formation of a broad-based Coalition Government. The parties also agreed on measures to examine the violence and the electoral problems. They further decided to address the long-term issues that triggered and fuelled the crisis through land and judicial reforms, constitutional and electoral changes, and policies to overcome deep social resentments.