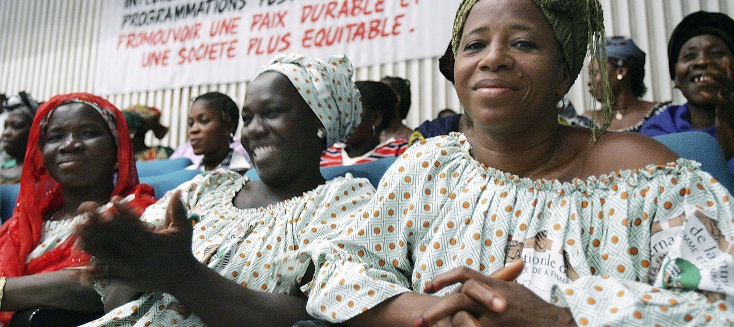 Increasing the effective participation of women in peacemaking and conflict prevention efforts is a key priority for the United Nations Department of Political and Peacebuilding Affairs (DPPA). The issue first made it on to the Security Council's agenda in 2000, with the adoption of Security Council Resolution 1325 on Women, Peace and Security (WPS). However, despite many global and regional commitments and initiatives, the number of women involved in formal peacemaking processes remains low; and many peace agreements do not include gender provisions that sufficiently address women's security and peacebuilding needs.
In DPPA's special political missions in the field, Gender Advisers or Gender Focal Points provide advice and support to the mission's leadership and the Secretary-General's Special Envoys and Special Representatives on ways to promote women's political participation, make peace processes and prevention efforts more inclusive, and include a gender perspective in the UN's political work. Contacts with civil society, especially women's groups, can help prevent or resolve conflict, as they often have intimate knowledge of the dynamics on the ground, given their networks and access to restricted areas. They can assist officials involved in peacemaking to address grievances and identify root causes of conflict from an early stage before a conflict further deteriorates.
In countries where the UN is supporting a peace process, Gender Advisers help organize consultations with civil society and women's groups and provide advice on effective ways to include women and their views in the process, for example through the establishment of a parallel consultative mechanism, for instance a women's advisory board. The Department also promotes women's political participation in elections, for example through advice on Temporary Special Measures, including electoral quotas, during electoral support. To assist mediation actors and Member States in their efforts to make peace processes more inclusive and gender-responsive, DPA developed two Guidance documents for mediators and mediation experts; one on Addressing Conflict-Related Sexual Violence in Ceasefire and Peace Agreements (2012); and one on Gender and Inclusive Mediation Strategies (2017). 
In 2016, DPPA (then DPA) established a stand-alone Gender, Peace and Security Unit (GPS), which oversees the Department's implementation of the WPS agenda. GPS has the responsibility to develop policy, build the capacity of DPPA staff involved in peacemaking and support DPPA's mission and headquarters staff in implementing Security Council resolutions on WPS and Conflict-Related Sexual Violence. The Department's approach to implementing the WPS agenda is gender mainstreaming throughout, which means that WPS work is not only the responsibility of gender advisers, but the responsibility of every DPPA staff member.
For more information, visit https://peacemaker.un.org/wps
In May 2020, Under-Secretaries-General for UN Women, Political and Peacebuilding Affairs and Peace Operations made a joint call to ensure women are central to global ceasefire efforts. 
Security Council Resolutions
In 2000, when the Security Council adopted resolution 1325 on WPS, it was a diverse and geographically-representative coalition of Member States such as Bangladesh, Namibia, Canada and Jamaica, with a strong global constituency of women civil society organizations who first tabled the resolution in the Security Council.  The resolution was the first Security Council resolution to link women to the peace and security agenda, looking at the impact of war on women and their contribution to conflict resolution and sustainable peace.
The resolution consists of four pillars: 1) The role of women in conflict prevention, 2) their participation in peacebuilding, 3) the protection of their rights during and after conflict, and 4) their specific needs during repatriation, resettlement and for rehabilitation, reintegration and post-conflict reconstruction. A total of eight resolutions, all under the WPS agenda, can be divided into two groups. The first group, initiated by 1325 and followed by SCR 1889 (presented by Vietnam in 2009), SCR 2122 (presented by Azerbaijan in 2013) and SCR 2242 (presented by Spain in 2015), deals in short with the need for women's active and effective participation in peacemaking and peacebuilding.
Regarding the second group, in 2008, a first resolution (1820) was adopted on conflict-related sexual violence (CRSV), acknowledging that sexual violence when used as a tactic of war can be a threat to international peace and security. Rape and other forms of sexual violence are no longer seen as inevitable side effects of armed conflict, but are now treated as crimes against humanity. Mediators and Member States are urged to ensure that CRSV is included as a prohibited act in provisions of ceasefire and peace agreements.
Why Is Gender and Women Included in the UN Peace and Security Agenda?
The term gender refers to the historically and culturally developed characteristics, roles and norms attributed to men and women in society according to their sex. In conflict, men and women are impacted differently, and a differential approach to the way peacemaking is carried out is needed, responding to men and women's different security and peacebuilding needs. Men have long been considered the only relevant actors in armed conflict and its resolution. However, women are also greatly affected and involved in conflict, be it as relatives, caretakers, politicians, peace activists or combatants. Including women in peace processes adds a broader range of perspectives and increases inclusivity and diversity. This enhances the ability of peacemakers to address a broader range of stakeholders and their concerns, which has proven to lead to more sustainable peace. For these reasons, and to answer to its responsibilities stemming from the human rights agenda, the United Nations is strongly committed to include women in its peace and security work.
Links and Resources
DPPA Activities and Guidance:
DPPA Women Peace and Security Policy, New York 2019.
DPPA: Guidance on Gender and Inclusive Mediation Strategies. New York 2017. Online: https://peacemaker.un.org/sites/peacemaker.un.org/files/1.%20English%20-GIMS.pdf
DPPA: Guidance for Mediators. Addressing Conflict-Related Sexual Violence in Ceasefire and Peace Agreements. New York 2012. Online: https://peacemaker.un.org/sites/peacemaker.un.org/files/GuidanceAdressingConflictRelatedSexualViolence_UNDPA%28english%29_1.pdf
References and General Information:
Anderlini, Sanam Naraghi: Women Building Peace. What They Do, Why It Matters. London 2007.
Research project on Women and the UN Charter by SOAS University London: https://www.soas.ac.uk/cisd/research/women-and-the-un-charter/
Nderitu, Alice/O'Neill Jacqueline: Getting To the Point of Inclusion: Seven Myths Standing in the Way of women Waging Peace. Background Paper for the 2013 Oslo Forum, May 2013. Online: https://www.osloforum.org/sites/default/files/Oslo%20Forum%202013-BP-Getting%20to%20the%20Point%20of%20Inclusion.pdf
The International Peace Institute (IPI): The SDGs and Prevention for Sustaining Peace. Exploring the Transformative Potential of the Goal on Gender Equality. October 2016. Online: https://www.ipinst.org/2016/11/sdgs-goal-gender-equality
Paffenholz, Thania: 'Results on Women and Gender' Briefing Paper. Centre on Conflict, Development and Peacebuilding. Geneva: The Graduate Institute of International and Development Studies 2015. Online:  http://repository.graduateinstitute.ch/record/292671/files/briefingpaperwomen%20gender.pdf
United States Institute of Peace: Charting a New Course. Thought of Action Kit. Women Preventing Violent Extremism. Washington 2015. Online: https://www.usip.org/sites/default/files/files/Women-Preventing-Violent-Extremism-Charting-New-Course.pdf
Bell, Christine: Women and peace processes, negotiations, and agreements: operational opportunities and challenges. NORF Norwegian Peacebuilding Resource Center Policy Brief. March 2013. Online: http://www.peacewomen.org/assets/file/Resources/Government/christine_bell.pdf
CSOs and Partner Organizations:
UN Women: http://www.unwomen.org/en/what-we-do/peace-and-security
United Nations Development Program: http://www.undp.org/
The UN's Special Representative's Office on Sexual Violence in Conflict: http://www.un.org/sexualviolenceinconflict/
United Nations Department of Peacekeeping Operations (DPKO): https://peacekeeping.un.org/en/empowering-women
The International Civil Society Action Network (ICAN): http://www.icanpeacework.org/
The NGO Working Group on Women Peace and Security: http://www.womenpeacesecurity.org/
The Crisis Management Initiative (CMI): http://cmi.fi/
The Peace and Research Institute Oslo (PRIO): https://www.prio.org/