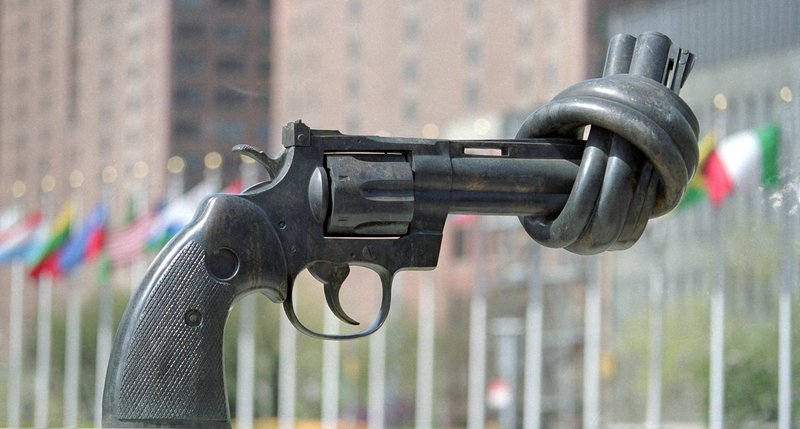 "Africa's challenges can only be solved by African leadership. […] I commend the African Union for making Silencing the Guns such a prominent part of its work for 2020."
Secretary-General António Guterres, 9 February 2020
"There is need for a hybrid conflict management mechanism that will take into consideration traditional/indigenous methods of interventions in search for a balanced solution between the centres and the peripheries, in order to preserve national unity with due respect for diversities."
AU High Representative for Silencing the Guns in Africa H.E. Ramtane Lamamra, 10 February 2020
"[The Security Council] encourages the United Nations and the African Union to strengthen their efforts to coordinate their engagement in a mutually-supportive manner [and] expresses its readiness to support the implementation of the African Union Master Roadmap of Practical Steps to Silence the Guns in Africa by year 2020."
Security Council resolution 2457 (2019)
In 2013, the African Union (AU) Assembly of Heads of State and Government pledged "not to bequeath the burden of conflict to the next generation of Africans and undertake to end all wars by 2020." Silencing the Guns in Africa is one of the flagship initiatives of the AU's Agenda 2063 that aims to achieve an integrated, prosperous and peaceful Africa driven by its own citizens and representing a dynamic force in the international arena, an agenda which is strongly linked with the UN's 2030 Agenda for Sustainable Development. The AU Summit, held on 9 and 10 February 2020, adopted "Silencing the Guns: creating conducive conditions for Africa's development" as this year's AU theme.
Key Areas of Support
As part of the UN-AU partnership, the UN provides wide-ranging support to the AU Initiative. Coordinated by the UN Task Force on Silencing the Guns in Africa, the UN's contributions include, among other things:
Technical advice to the AU Mediation Support Unit and the Network of African Women in Conflict Prevention and Mediation (FemWise)
Workshops enhancing expert-level dialogue between AU Peace and Security Council and the UN Security Council
Technical assistance on disarmament, demobilization and reintegration; mine action; and small arms control, including to ECCAS
A pilot of the African Human Security Index
Capacity building for youth leaders on unarmed civilian protection
Awareness raising through high-level events, the Africa Dialogue Series, exchange with youth, Africa Renewal magazine and social media
The UN has also supported policy dialogue activities to advance the objectives of the Initiative, including through the UN Peacebuilding Commission, the first Africa Regional High-Level Conference on Preventing and Countering Violent Extremism (July 2019), and ministerial-level events. The UN is also assisting in the establishment of the AU Humanitarian Agency.
Plans are underway to contribute to the 2020 edition of the September "Africa Amnesty Month" for the surrender and collection of illicit small arms and light weapons, strengthen physical security and stockpile management in the Sahel, expand national capacity-building projects on counter-terrorism and prevention of violent extremism, and support AU efforts to integrate the protection of children in its mediation efforts.
Key Documents
Current Members of the UN Task Force on Silencing the Guns in Africa
DCO, DESA, DGC, DPPA, DOS, DPO, Human Security Unit, OCHA, OHCHR, OSAA, OSASG-P, UNDP, UNFPA, UNHCR, UNOCT, UNODA, UN Democracy Fund, UN Environment, UN Global Compact, UN OHRLLS, UN Women, OSRSG CAAC, OSRSG SVC, WHO and the OEY. Field entities: UNECA, UNOAU, UNOCA and UNOWAS.
On 10 July 2019 in Nairobi, Kenya, the DPPA-DPO Assistant Secretary-General for Africa Bintou Keita, the AU Commission and the Government of Kenya convened jointly a dialogue with over 50 youth representatives from across the continent to discuss the role of African youth in Silencing the Guns.